Adult Males, stud services not offered. Priced dogs for sale.
Carey – $900
Carey is a energetic little guy that craves attention.  He was born on 18 June 2015. His mom is Chiclet and his Dad is Chocolate Mousse. He has one floppy ear from his puppy wrestling days. He prefers women and tends to over bond with them becoming very protective. Would be best in a single women home with no children. He does get along with other chihuahuas, again preferring female dogs. He weighs 6 lbs. He has produced litters of pups.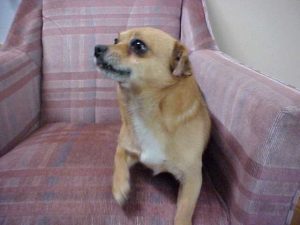 Pascal -$900 Sold Connie
Pascal is a nice looking white with fawn short coat male.  He is a timid little man weighing 5 lbs 10 oz.
He is available to a mature family as he will take some time to adjust. He is afraid of larger dogs. He will need more socializing. Not leash trained.  He was born on 21 Dec. 2014.
He has not been neutered and has fathered a litter of puppies. His Father is Rhett and his mom is Pixie.
Dante $900 Sold Tammy
Dante is a darling little man born on 15 Oct. 2010
He is a little fawn and white apple head.  He loves cuddles and the ladies. He is an intact alpha male and does not get along with other male dogs.
He weighs just 4 lbs 1 oz.
Zachery $1,000 ,sold Sandra Allgeier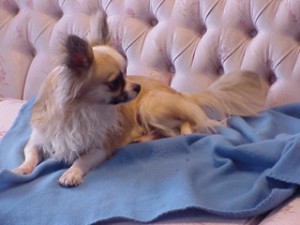 Zachery is a little sweety. He is a light fawn and white long haired puppy
born here at Sunsets Chihuahuas on 27 Feb. 2012. He has a sweet little applehead and short nose with dark markings on his face. Mother is Sabrina, Father is Ben.
He now weighs 6 lbs.